SPACES ARE LIMITED – BOOK YOUR WHEEL or studio session TODAY!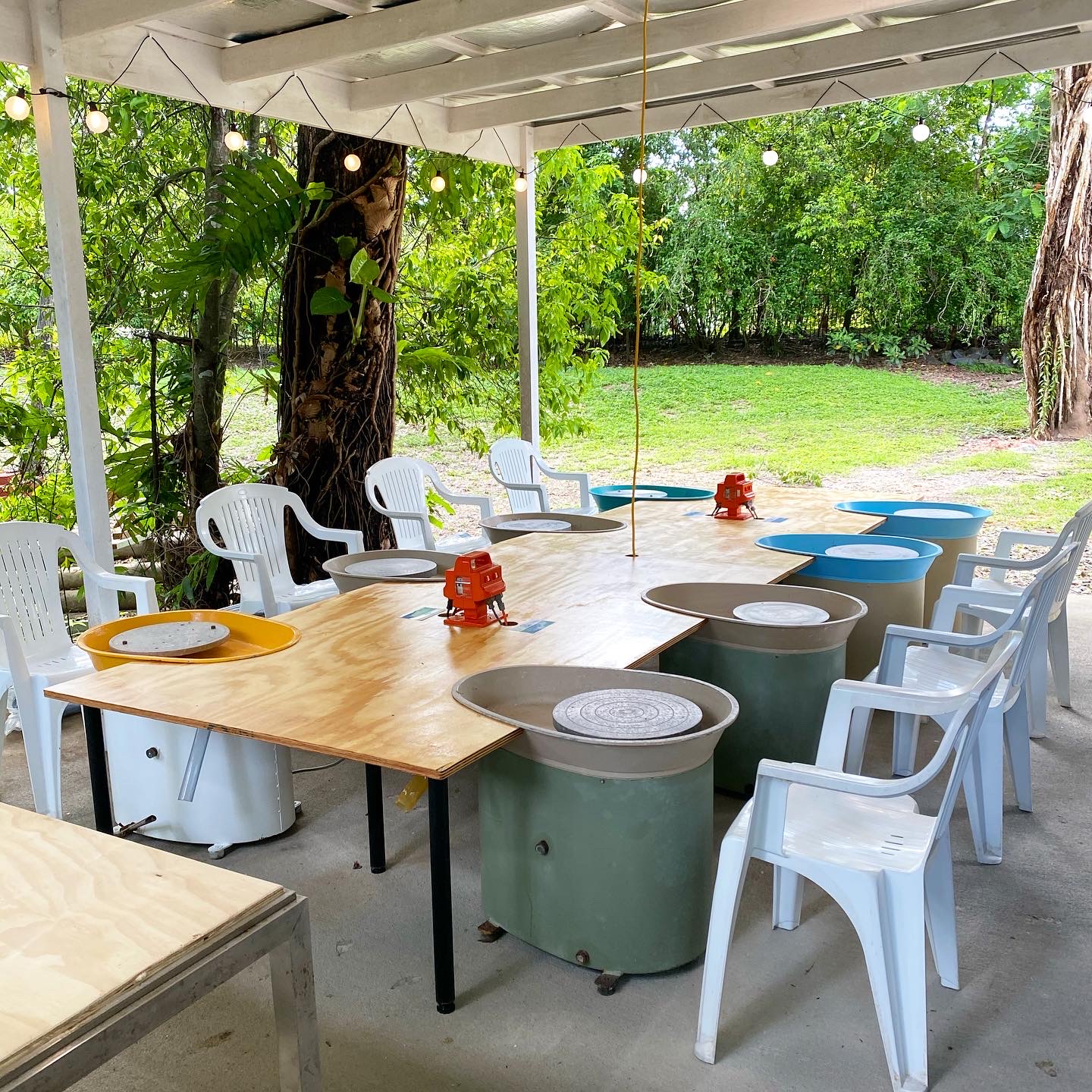 Pottery Wheel Time or Studio Time is for those who have already completed the Beginners Learn to Throw Pottery Classes and would like to continue making pottery. If you have not completed the Beginners Class please click here for more information and to book a beginners class.
Wheel Time is for either time on the Pottery Wheel or time in the Studio only – it does not include the cost of clay or tutorials or instruction. You are free to hop on a wheel and create whatever you like, or spend time in the studio trimming, hand building or glazing your pots. All Pottery wheels, tools and equipment must be left clean.
Book NOW! Click on a Wheel Time session (green) in calendar at bottom of page to reserve a wheel.
Wheel / Studio Time Cost: $30 per 3hr Studio session. Price includes use of all tools and use of a pottery wheel. It does not include the cost of clay or firings. (see additional prices below).
Please Bring:
Apron
Towel
Lidded Container – If you would like to recycle your own slops – (ice cream container good) not necessary if you don't want to recycle your leftovers.
Additional Costs
Clay: $30 – $50 per bag.
Please Note: you are welcome to purchase your own clay elsewhere, however only Mid-fire Cone 6 clay will be fired in our kiln. If you have purchased your own clay elsewhere I will need to inspect the bag to see if it is suitable to be fired in our kiln.
Firings & Glazes: $2.50 per firing. Eg. your pot will need to be fired twice, so $2.50 for the bisque fire PLUS $2.50 for the glaze fire = $5.00 per completed pot. Cover your pot in whichever glaze you like, glazes are included in the firing costs.
Important: Rescheduling & Cancellations
Pottery Class Bookings cannot be rescheduled within 24hrs of class commencement. If you cannot make a class within 24hrs of your booking you will forfeit your spot & lose your money. Sorry – no rescheduling or refunds for 'no shows' or last minute cancellations within 24hrs.
Please do not text or email to Reschedule or Cancel a booking. You must log into your account to make any changes. Click Here to Log In on the My Account Page. Once logged in, Click onto 'Bookings' left hand side, then click onto the 'Reschedule' or 'Cancel' button next to your booking. If there is no button you may have left it too late, the reschedule & cancel button will automatically dissapear 24hrs before your scheduled class.
Sorry – but unfortunately I have had too many people reschedule or cancel at last minute which costs time & money. I cannot afford to hold a place or block the calendar for someone who doesn't show. I often get texts from potters annoyed when they miss out on a spot or upset when the class is full and they can't get in, and so if someone cancels at last minute or doesn't show, not only do we lose a spot on the day it's also taking up another spot the following week or whenever you decide to reschedule to. It's not fair on me or on other potters who would loved to be here in your place. If you're not sure whether you can make a class, please don't book in the first place. Please wait until you're 100% sure that you can make it before you book any spot and block it on the calendar for anyone else.
Thanks so much for your understanding!
Blue = Beginner Learn to Throw Classes (Click here for more info on Beginner Classes)
Green = Wheel Time