Stick in the Mud Pottery is 100% Australian made. Hand thrown by myself on the pottery wheel, then trimmed, carved, glazed & fired from my home studio at Clifton Beach in Far North Queensland.

All clay used is midfire stoneware, fired to cone 6, 1220 degrees celcius and all glazes are lead free and food safe.

As each piece is hand crafted, slight variations in shape and glaze will always occur. Whilst these pieces are all thrown and shaped to the same specifications, by the very nature of the way in which they are created, the piece you receive will be uniquely individual.

To keep this piece at it's very best, I always recommend hand wash only. As with all pottery, it can chip or break if knocked or dropped, please take extra care.

Postage will be automatically calculated at checkout based on your post code. Click here for further info on postage costs.
---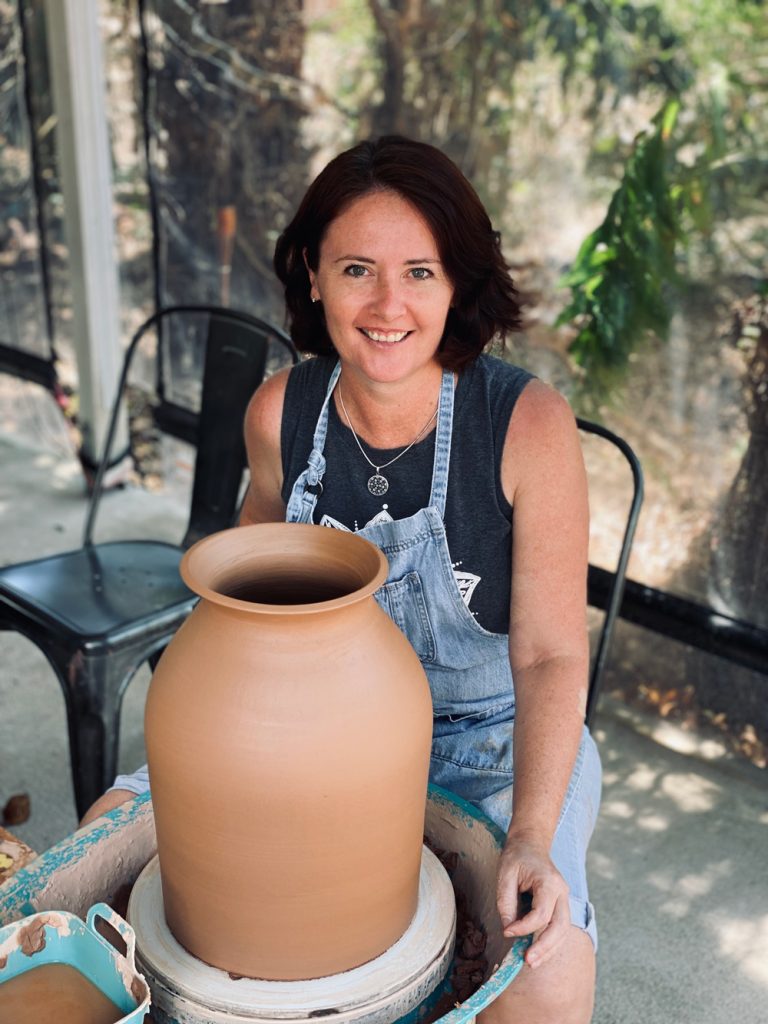 Kylie Cooper
G'Day – I'm Kylie. Thanks for visiting.
I'm a website and graphic designer of 20+ years, and in 2020 quit the computer to become a full time potter. Pottery has been a passionate hobby for many years. I started going to evening classes (when my girls were babies 20 years ago), where we would make slip cast molds, and I quickly became hooked by the entire process, from mixing slip, pouring, trimming, hand painting and glazing my own hand made clay creations.
I have always owned a pottery wheel, much to my husbands delight. We have lugged a wheel around from house to house about 15 times moving homes, I gave in and sold my first wheel when we moved to Cairns 8 years ago to make the move easier, but it wasn't long after we arrived I decided I needed to get back into it and bought another new one. It has only been since moving to Cairns that I have had time to re-ignite my passion for throwing. Today my main focus is on wheel thrown pottery and ceramics – but I still do love all aspects of working with clay and I love to experiment whenever I have spare time.
I'm very lucky to have two beautiful girls, Tia 21yrs & Mali 18yrs, and a pretty fab husband Scott – who supports and encourages me daily in my decision to turn my passion for pottery into a full time business. I thoroughly enjoy every day that I get to create pottery and teach classes.
I work out of my home studio (garage) at Clifton Beach, just North of Cairns and South of Port Douglas, in tropical Far North Queensland.
Come say Hi! You can find me stuck in the mud most days. I love sharing my passion with like minded potters and anyone who is interested in pottery or ceramics.
You can also find me on instagram & facebook @stick.in.the.mud.pottery
Thanks for visiting & I hope to see you soon!