SPACES ARE LIMITED – BOOK YOUR WHEEL Time session TODAY!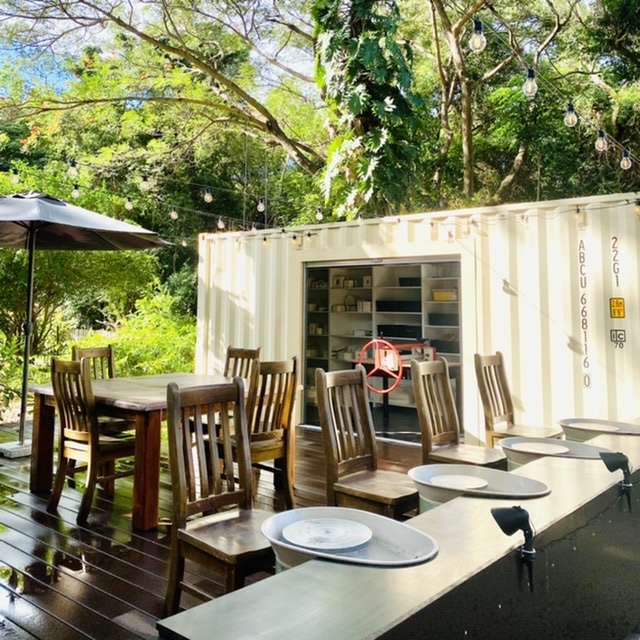 4 Wheels Outside on The DECK
Wheel Time DECK WHEELS are the exact same as our WHEEL TIME Sessions, however these 4 Wheels are Outside on the DECK. Please keep in mind there currently is NO roof cover over these Deck Wheels. It is lovely to sit outside when the weather is fine, however if it is raining we will need to cancel your session and reschedule to another time.
Pottery Wheel Time and Deck Wheel sessions are RESERVED for those who have already completed the 4 Beginners Learn to Throw Pottery Classes and would like to continue coming to sessions to make more pottery on the pottery wheel. If you have not completed 4 Beginner Classes please click here for more information and to book a beginners class. Please do NOT book Wheel Time or Deck Time if you have not attended classes in our studio previously.
Wheel Time bookings are for either time on the Pottery Wheel or time in the Studio only – it does not include the cost of clay or tutorials or instruction. You are free to hop on a wheel and create whatever you like, or spend time in the studio trimming, hand building or glazing your pots. All Pottery wheels, tools and equipment must be left clean.
Book NOW! Click on a Wheel Time session (green) in calendar at bottom of page to reserve a wheel.
$33 per 3hr session
Wheel Time Session Cost: $30+GST per 3hr Studio session + PLUS CLAY + FIRINGS (see additional costs below).
plus+ additional costs
$40 – $50 per bag. Click here to Buy Clay
KILN FIRINGS & GLAZES
PLEASE NOTE: Kiln firings INCLUDE the use of underglazes and glazes. Cover your pots in any glaze you like.
Pots UNDER 15cm = $2.50 PER POT / PER FIRING (eg. a bisque fire plus+ glaze fire = $5).
Pots OVER 15cm (tall OR wide OR both) $5.00 PER POT / PER FIRING.
Pots OVER 30cm (tall OR wide OR both) = $10.00 PER POT / PER FIRING.
Anything larger please ask me to quote.
BISQUE PIECES
Enjoy a relaxing session painting and glazing a ceramic bisque piece with friends. Cost is $30+gst per person for the studio time session + PLUS the cost of the bisque piece. Bisque prices are listed on our website and also marked on each piece. The price you see marked on the bisque piece INCLUDES the cost of Kiln Firings & use of all Underglazes & Glazes.
Book a Studio Time session online, and select & pay for your ceramic bisque pieces when you get here. Bisque Pieces range between $5 – $80.
Remember to BYO sparkly drinks & snacks for an extra fun session.
Click Here to View a sample of Bisque Pieces available.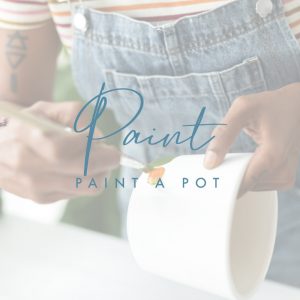 Studio Rules & what to bring
PLEASE DON'T COME TOO EARLY. No more than 5 mins before a session starts please.
PLEASE DRIVE ALL THE WAY AROUND THE TURNING CIRCLE & PARK ON OUR DRIVEWAY OR ON THE GRASS IN BACK YARD. Please don't drive straight in and stop midway, other cars can't fit behind you if you stop short and then their car blocks the entry. If there is space in front of the garage you can park there, but if two cars are there already, don't stop behind them, please continue around the turning circle and park on the driveway in front of our house. If you need to leave early, please park out on the street and walk down so we don't have to shuffle cars around.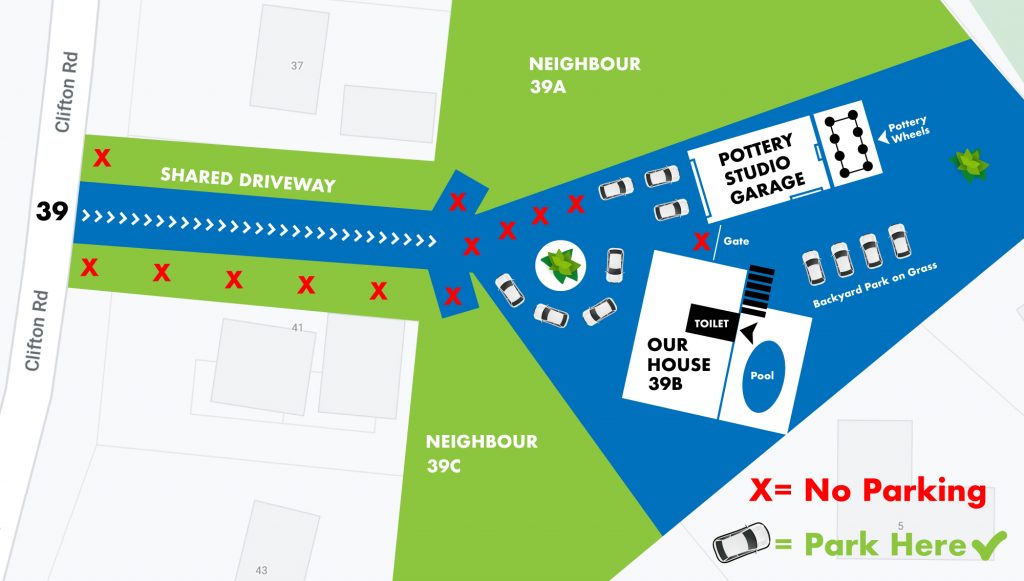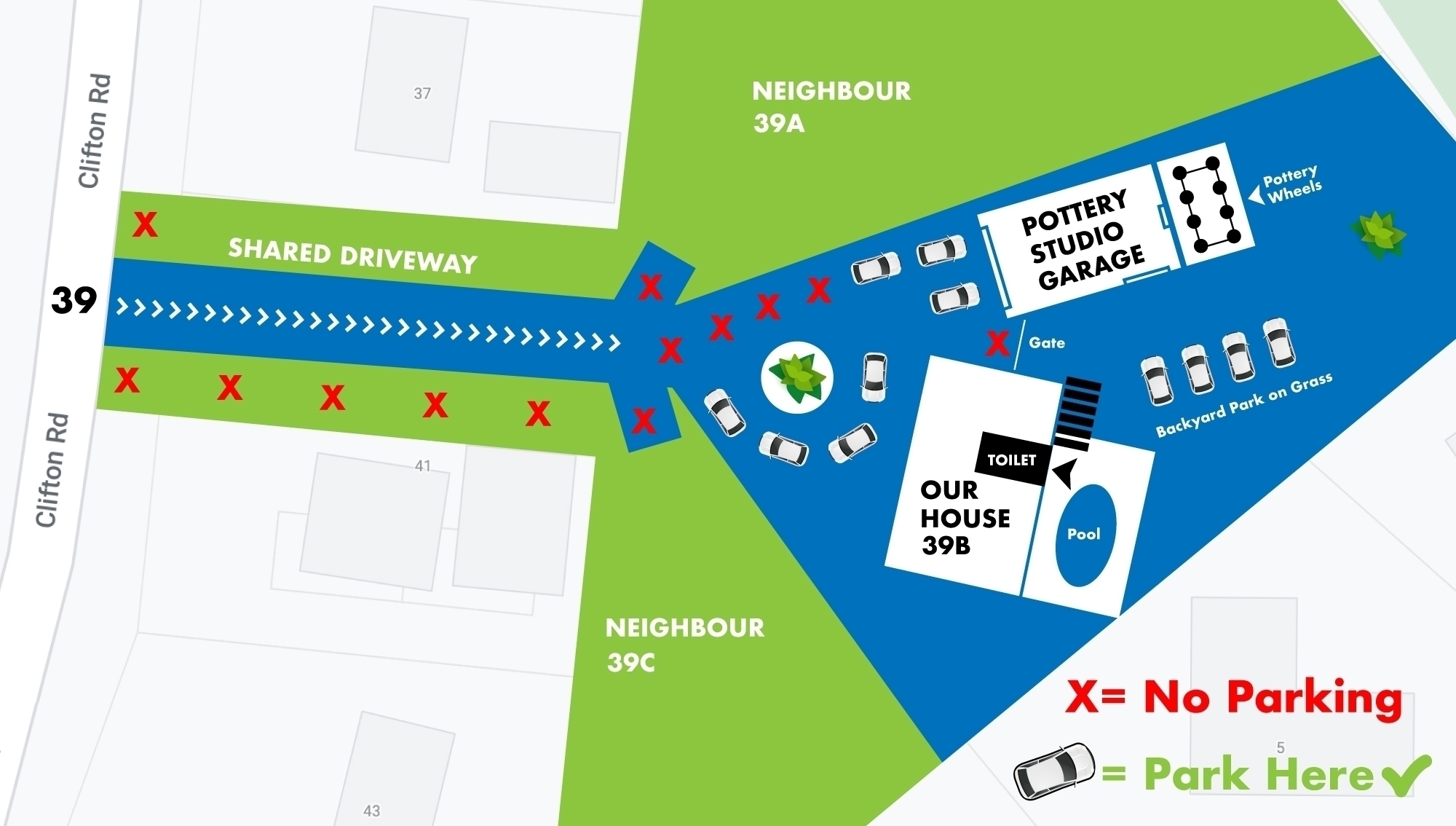 Please remember to bring your own APRON & TOWEL. With a few changes to the timetable and more sessions now available every week, wheel time sessions mostly come straight after beginner sessions so there WONT be any aprons or towels available for Wheel Time or Studio Time sessions anymore. Aprons & Towels are reserved for beginner throwing classes only.
Please bring a

LIDDED CONTAINER

if you would like to reclaim your own clay.
At the end of each session please CLEAN your wheel & tools & put the tool and water buckets back in place on the table in front of your wheel, the way they are when you start (not on the shelf).
Please make sure to

PUT YOUR CLAY AWAY

or take it home.
At the end of your session you need to

COVER YOUR OWN POTS

and put them away or take them home with you in your own box.
If you have trouble covering your pots, you need to put them in a Styrofoam container or bring a big box with newspaper for lining or cushioning if you're taking home with you.
Please

DON'T use the round bats to store your pots on

, these are for throwing large pots only. Large pots can stay on the round bats but only if absolutely essential and only if you really can't move them, otherwise they need to be transferred into your box or onto the timber rectangle boards so they fit on the shelf. If you cant find space on the shelf you will need to take your pots home with you and bring back next session.
BRING A BOX to take any completed pieces or work in progress home with you.
LAST BUT NOT LEAST! If you would like to discuss anything with me or have a suggestion of what you would like to see happen here, or any ideas, or if you're not happy about something – Please let me know – I want to hear your feedback.
Thanks so much for your support and co-operation for for making our small potting community so wonderful!
Everyone is creating such great work & I can't wait to see what you make next!
Rescheduling & Cancellations
Green = Wheel Time (Click here for more info)