Beginner Learn to Throw Pottery Classes
SPACES ARE LIMITED – BOOK TODAY!
Come along and learn to throw on the pottery wheel, make your own dinnerware, design, paint & glaze your very own pot. Be prepared to get messy, meet new friends, have a few laughs and best of all – over time and a few classes under your belt, you'll be hooked and will thoroughly enjoy using your very own unique hand made clay creations!
Cost
$250 for Beginners Course of 4 Classes, 3hrs each class (Save $30 when booked at once – price usually $280) . Price includes use of all tools, equipment, clay, glazes & firings. You will take up to 8 completed pieces home with you after your 4th class. See class schedule below on what's involved in your 4 classes. 4 classes must be booked and paid for at once to receive the $30 discount otherwise price is $70 per class for individual bookings.
or
$70 for one 3hr class. A great way to try wheel throwing and see if you like it before committing to a full course. Please note if you book just one class you won't get to take a completed piece home with you, but you will still have a lot of fun learning! For travelers to Cairns booking one class only, an additional $60 option is available if you would like me to fire & glaze 2 of your pots, plus post to your home address once complete (Australian residents only).

NDIS
Social inclusive fun for NDIS participants
Yes! NDIS participants are most welcome with full cost of classes covered in most cases.
Pottery classes are a great way to reduce stress, improve mental well being and creativity.
You can use your NDIS funding to book into our fully inclusive Learn to Throw Beginners Pottery Class.
Enjoy a relaxing experience, in a casual environment. All of our classes are beginner-friendly, with all materials provided.
If you're self-managed, you can just book in classes directly – we'll automatically send you invoices upon receiving your bookings, which you can then claim with NDIS.
Otherwise, if you use a plan manager, please ask them to contact me and I can then invoice your account manager direct.
Please contact me direct to discuss further and I can book you in – I look forward to seeing you soon!
PH: 0414348122 or Email:
When
There is no start date, you can start any time as everyone is at different stages. Beginner Classes are run every Mondays, Thursdays & Saturdays. Closed on public holidays or for special events.
MONDAY 6-9pm
THURSDAY 1-4pm & 6-9pm
SATURDAY 9am-12pm
Book NOW! (click on any time in calendar at bottom of page to make a booking)
Where
Home based studio (garage)
39b Clifton Road, Clifton Beach QLD 4879 – House in Middle
Location & Parking
39b Clifton Road, Clifton Beach.
Workshops are run out of my home garage. When you arrive you'll notice it is a shared driveway with three houses using the same driveway. I am the house in the middle. You are welcome to drive all the way down the driveway and there is plenty of room to park in front of my garage or on the grass in the back yard. (Please don't park along the actual driveway or block access for the neighbours to get out).
Class Schedule
It takes 4 classes to complete a piece from scratch to completion. Below is a guide on what to expect, however pottery is self paced, so I encourage you to take your time and enjoy the process. Please keep in mind if you book just one class only you won't be able to take a completed fired piece home with you. You are welcome to take your green (un-fired) pieces of pottery home with you, or book another session at a later date to continue on with classes and finish your pieces.
A Maximum of 8 pieces will be fired per person, so you can practice making as many pieces as you like in the time frame, however only your best 8 pieces will be fired and glazed, the rest will be recycled.

Class 1: Learn the basics of throwing on the pottery wheel: centering & pulling. Practice pulling cylinders.
---
Class 2: Throwing – keep on practicing, practice, practice & throw your first pot, a bowl or small vase on the pottery wheel.
---
Class 3: Trimming – trim your pots, carve or decorate, add handles to mugs, make your mark & shape your bottoms. Your pots will have it's first bisque firing in the kiln after it has been trimmed and has been left to become fully bone dry. A Maximum of 8 pieces will be fired, so keep your best 8 and we will recycle the rest.
---
Class 4: Hand paint & apply glazes to your bisque fired pots. Your pot will then have a second firing in the kiln and you can return to collect your finished pieces at a later date.
What you'll make
Initially we will be centering and pulling cylinders. Beginners will start with a bowl and/or vase, and & may continue to make a mug, and pull and attach your own handles.
You can make whatever your heart desires…. Bowls, vases, mugs, plates, candle holders, jars, dinnerware… Come along and create what you like, enjoy spending time with new friends who have a passion for pottery.
Number of pieces you will make
A maximum of 8 pottery pieces will be fired and glazed per person, per 4 class block. If you have booked 1 class only, you won't be able to take any completed pieces home, however you will still have fun practicing. During the 4 class beginners sessions, you are welcome to throw as many pieces as you like while you are practicing, however only your best 8 pieces will be fired & glazed, the rest will be recycled. & yes once you have completed 4 beginner classes you can take your finished pottery pieces home!
Clay used
All of the clay used in our studio is Mid Fire Cone 6 (fired to 1220 degrees Celsius). Beginners will start with Feeneys white school clay which is grey in colour when throwing & wet (greenware) and will turn a light cream colour once fired. This clay is quite coarse on your hands but holds forms well.
How many people in each class
There are 8 pottery wheels, however each session has 4 wheels reserved for beginner classes and 3 are reserved for Wheel Time students and 1 is for me to demonstrate on. If you have a large group or would like to have more than 4 people in a beginners class together, please contact me and we can organise a separate time for your group booking max 7 people.
Group bookings
Have a group? Hens Party? Girls Weekend? Family Reunion? School Group? Office team building? Yes absolutely no problem. Contact me direct and we can schedule your own private group session. Group bookings are maximum 7 people.
What to bring / What NOT to bring
Wear comfy clothes that you don't mind getting dirty.
Don't bring or wear a watch, rings or bracelets. It is best to keep your arms bare from elbows down.
Keep your fingernails short. False or acrylic nails are OK but they won't make it easy, the shorter the better.
A hair tie or headband or cap if you have long hair to keep hair out of your face while you're bent over the wheel.
You are welcome to bring any of your own tools if you have them (marked with your name), but not necessary as all items will be supplied.
Bring a jumper or long sleeve T-shirt (in winter months), it can get cool in the studio as we sit outside, especially night classes and your hands will be in water most of the class.
There is Tea & Coffee available, however evenings or Saturday afternoon classes you're welcome to BYO sparkly beverages.
Can Children Attend Classes?
No, Sorry. Not at this stage. This is an adult beginners potters group, so no children under 16yrs. Check out Coffee & Clay at Yungaburra, they run excellent children's pottery painting workshops.
How to Book
IMPORTANT: You need to 'Create an Account' if you haven't already got one and login.
By creating an account you can log back in at any time and make changes or reschedule your booking if required. 
To book more than one class or session at a time, you need to click onto each session on the calendar one by one, you will see a list appear of your selection under the calendar. Once you're happy with your selection, click 'Book Now'. Then you can 'View Cart' and checkout.
Beginner Learn to Throw Classes are on Mondays, Thursdays & Saturdays only. Wednesday nights are for Wheel Time, so the calendar only shows these 4 days each week. Use arrow to scroll to up-coming weeks.
IMPORTANT: Rescheduling or Cancellations
Bookings cannot be rescheduled within 24hrs. If you cannot make a class within 24hrs of your booking you will forfeit your spot & lose your money. Sorry – no rescheduling or refunds for 'no shows' or last minute cancellations within 24hrs.
Please do not text or email at last minute to Reschedule or Cancel a booking. You must log into your account to reschedule. See pics below. Log In. Click onto 'Bookings' left hand side, then click onto the 'Reschedule' or 'Cancel' button. If there is no button you may have left it too late, the reschedule & cancel button will automatically dissapear 24hrs before your scheduled class.
Sorry – but unfortunately I have had too many people reschedule or cancel at last minute which costs time & money. I cannot afford to hold a place or block the calendar for someone who doesn't show. I often get texts from potters annoyed when they miss out on a spot or upset when the class is full and they can't get in, and so if someone cancels at last minute or doesn't show, not only do we lose a spot on the day, it also takes up another spot the following week or whenever you may decide to reschedule to. It's not fair on me or on other potters who would loved to be here in your place. If you're not sure whether you can make a class, please don't book in the first place. Please wait until you're 100% sure that you can make it before you book any spot and block it on the calendar for anyone else.
Thanks so much for your understanding.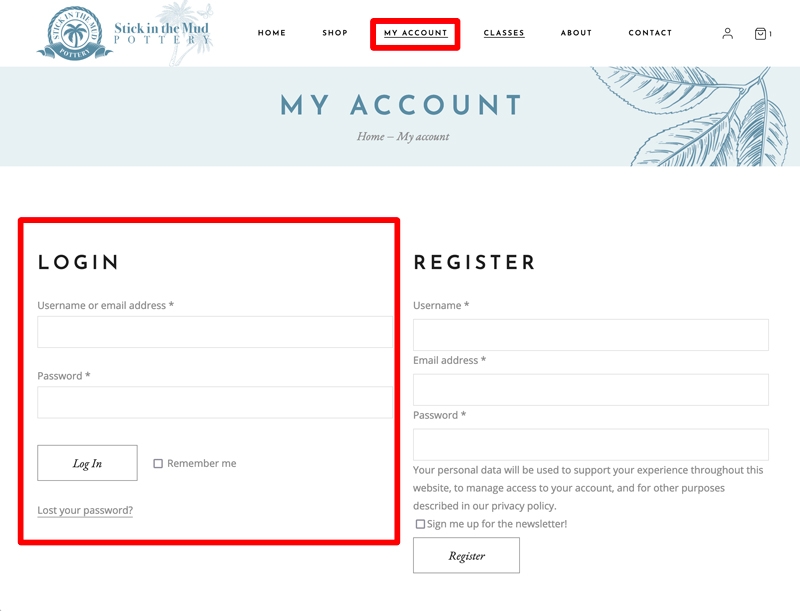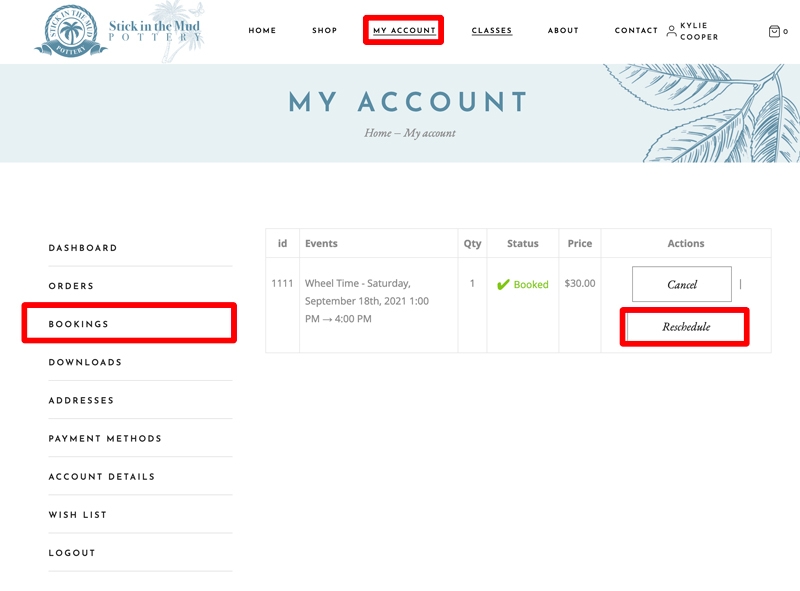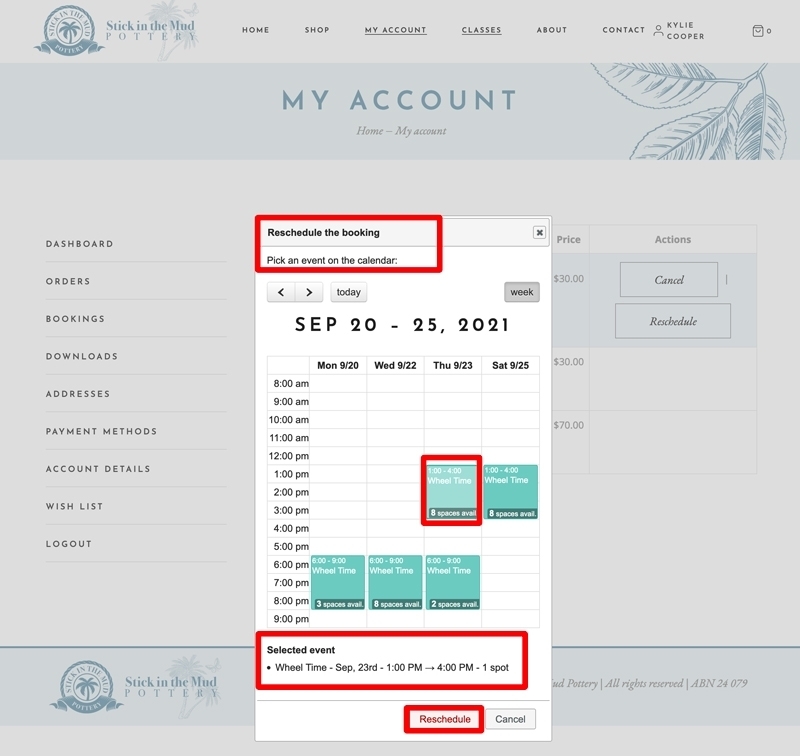 Blue = Beginner Learn to Throw Classes

Green = Wheel Time (click here for information on Wheel Time)
Please Note: The small number indicates how many spaces are left available in each time slot. If the box is a lighter shade & it has a zero '0' it means the class is fully booked and you won't be able to click on it.