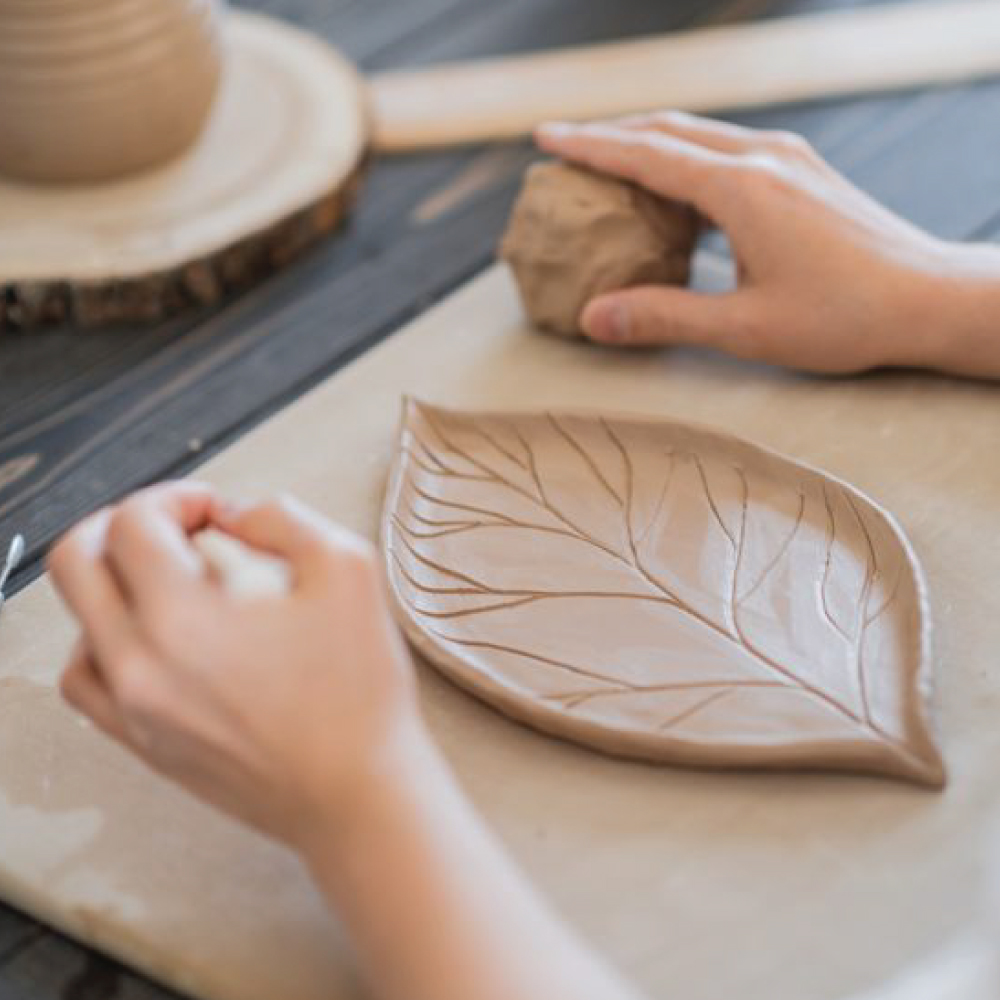 Beginner HAND BUILDING Pottery Classes
SPACES ARE LIMITED – BOOK TODAY!
Come along and learn to hand build with pottery. Make your own pinch pot, coil pot or slab built ware. Be prepared to get messy, meet new friends, have a few laughs and best of all – over time and a few sessions under your belt, you'll be hooked and will thoroughly enjoy using your very own unique hand made clay creations!
PLEASE NOTE: This is a Beginners HAND BUILDING Class ONLY. You will need to complete the 4 Beginners Wheel Throwing Classes if you would like to go on the pottery wheels. Click here for information on Beginners Wheel Throwing Classes.
Cost
$60 for 3hr class + Plus $40 bag of clay = $100 for your First 3hr Beginners class including clay. Price includes use of all tools and equipment, including slab roller, textured rolling pins, molds, and glazes, plus a full 10kg bag of clay. Bag of clay will last a long time, you can continue using your clay at home or when you return to book into Studio Time sessions.
After your first beginners class you can book any Studio Time session, cost is $33 inc. gst per 3 hour session. Continue to work on your hand building master pieces and use all of the studio equipment including slab roller, textured rolling pins, molds, and glazes.
Additional costs if you continue coming to Studio Time sessions are Kiln Firings + extra Clay. Please click here for information on Kiln Firing charges.
When
Fortnightly – Every Second Friday Night 6pm – 9pm. If you have a group, please contact me for private group session. Check availability calendar below. Any of the PINK sessions are Beginner Hand Building Sessions.
Book NOW! See 'HOW TO BOOK' tab below.
Where
Home based studio (garage)
39b Clifton Road, Clifton Beach QLD 4879 – House in Middle
Location & Parking
39b Clifton Road, Clifton Beach.
Workshops are run out of my home garage. When you arrive you'll notice it is a shared driveway with three houses using the same driveway. I am the house in the middle. You are welcome to drive all the way down the driveway (Please don't park along the actual driveway or block access for our neighbours to get out).
If you drive down the driveway, PLEASE DRIVE ALL THE WAY AROUND THE TURNING CIRCLE & PARK ON OUR DRIVEWAY IN FRONT OF OUR HOUSE or on the Grassy Area in Backyard. Please don't stop midway in the entryway, other cars can't fit behind you if you stop short and then their car blocks the entry. If you need to leave early, please park out on the street and walk down so we don't have to shuffle cars around.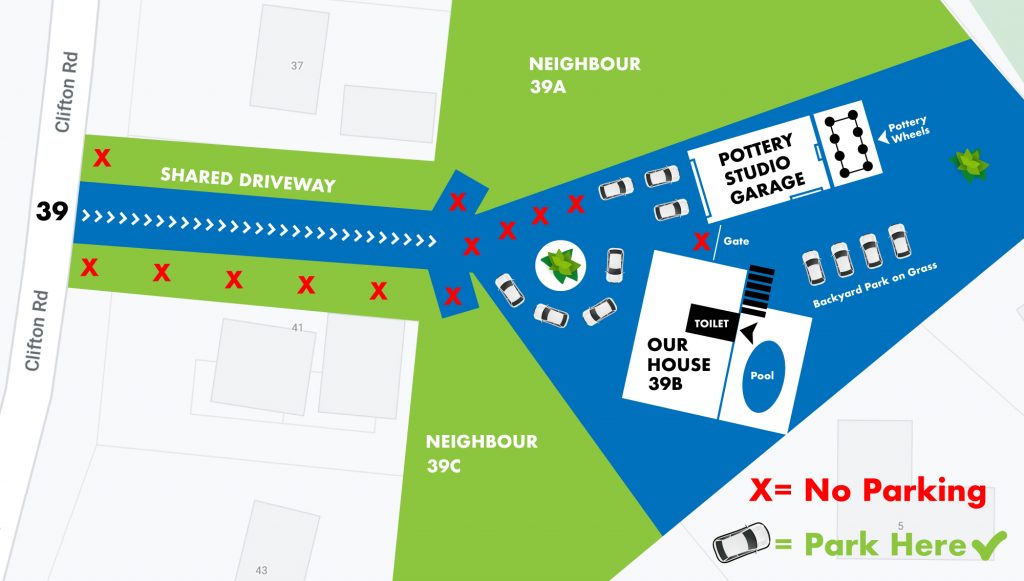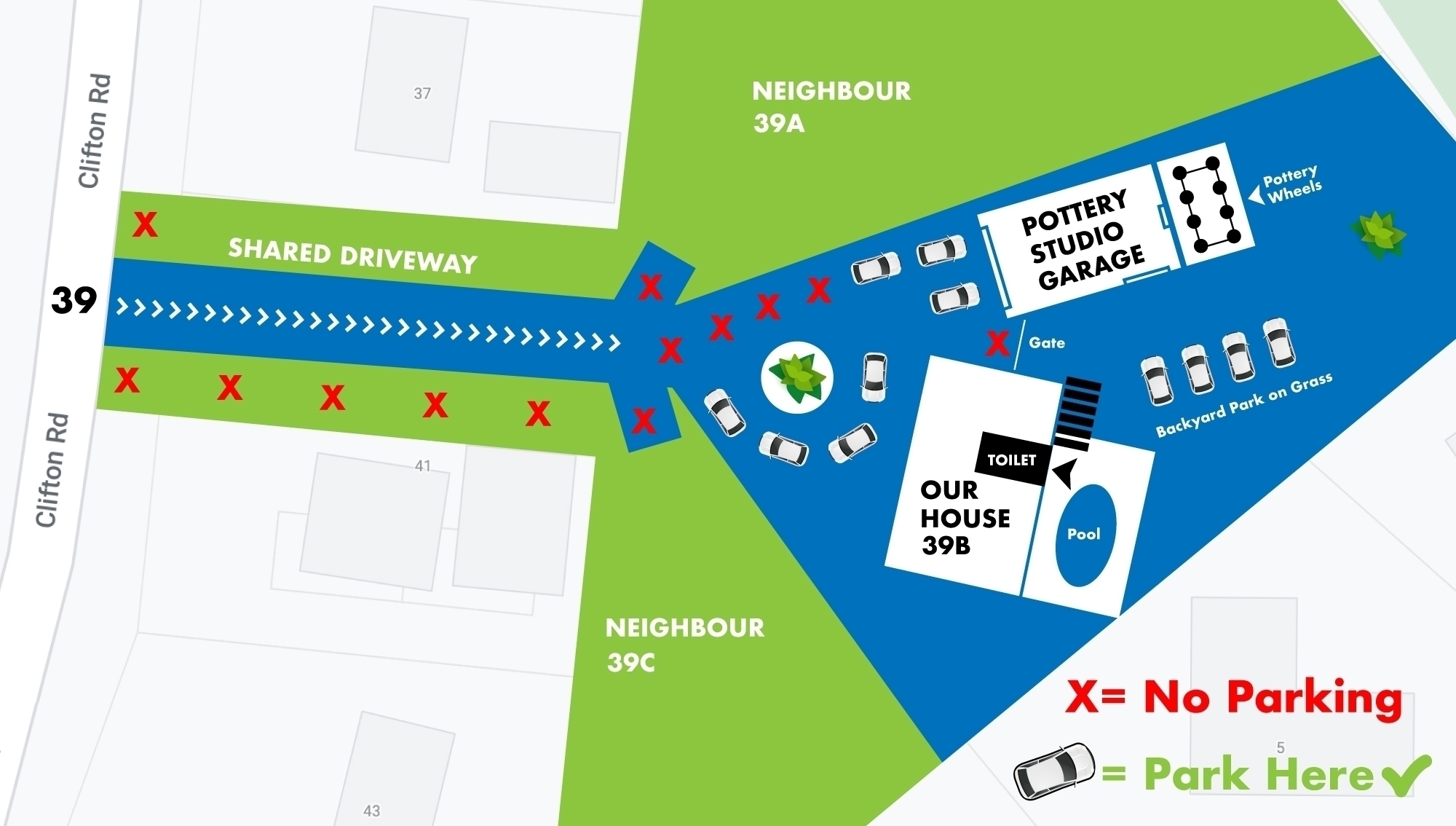 Class Schedule
In this 3 hour session we will run through the basic techniques of hand building with pottery. Techniques include pinch pots, coil pots and slab pots. I will demonstrate basic techniques including how to use the slab roller, how our studio works with a mini tour explaining where, when, what & how we run and answer any questions. After the introduction 3hr class you are welcome to continue attending Studio Time sessions at our studio.
What you'll make
You can make whatever your heart desires, bowls, vases or plates. Please keep in mind larger items like plates and platters take up a lot of room to store & fire in the kiln and firing charges are double for large pieces. Please visit the kiln firing page for more information of kiln firing charges.
Clay used
All of the clay used in our studio is Mid Fire Cone 6 (fired to 1220 degrees Celsius).
How many people in each class
There are maximum of 8 people in hand building classes. We have 2 large square tables, one inside & one outside. All of our hand building equipment is stored in the outside shipping container area on the deck, we are in the process of getting a roof over the deck, however in the meantime if it is raining we can't sit outside and so we will need to reschedule.
What to bring / What NOT to bring
Please bring an Apron & old towel to wipe your hands on.
Wear comfy clothes that you don't mind getting dirty.
Don't bring or wear a watch, rings or bracelets. It is best to keep your arms bare from elbows down.
Keep your fingernails short. False or acrylic nails won't make it easy, the shorter the better.
You are welcome to bring any of your own tools if you have them (marked with your name), but not necessary as all items will be supplied.
Bring a jumper or long sleeve T-shirt (in winter months), it can get cool in the studio as we sit outside, especially night classes.
There is Tea & Coffee available.
There is cold water, however most people like to bring their own water bottle or snacks.
BYO sparkly beverages!
Can Children Attend Classes?
Generally no, this is an adult class, however we do occasionally have mother / daughter sessions. Please contact me to discuss your child age & ability. Children are charged at full price.
How to Book
FIRST ** If you haven't booked with us before you will need to click onto the 'Create an Account' button below, it will turn blue when you click on it, then fill out your details, name, email, etc. and then click the smaller 'register' button underneath. The screen will refresh/reload once you have logged in.
If you have booked a class with us before you need to click onto the 'Login' blue button first, enter your details and then click the smaller 'login' button underneath.
SECOND: Click onto a PINK session time on the calendar. PINK are Beginners Hand Building Sessions. Select the date you would like to attend by clicking on it. The session time you have selected will appear below the calendar. The small number on the calendar indicates how many spaces are left available in each time slot. If the box is a lighter shade & it has a zero '0' it means the class is fully booked and you won't be able to click on it. Use arrows at top of calendar to scroll to up-coming weeks.
THIRD: After you have selected a PINK Beginners Hand Building session. Select how many people are coming, then click 'Book Now'.
FOURTH: A message will appear, then click 'View Cart'. On the cart page, check your booking, scroll to bottom then click 'Proceed to Checkout'.
NOT WORKING?
It won't let me click on the time or add a session to my cart? – The class is probably full already. Full classes wont let you add to cart. Check the tiny number to see how many spaces are available. Zero '0' means the class is full.
I can't see my Cart? – If you've added session and clicked 'Book Now' but you can't see your Cart, click up the top main menu > My Account > My Cart.
My booking's not in my cart? If you've clicked Book Now but your booking is not in your cart you may need to refresh your browser or clear your cache, or go back to the top main menu > My Account > My Cart. OR the class might be full already! It won't let you add to cart if the session is full already.
Still not working? Samsung devices tend to have issues. But if you're not on a Samsung and it's still not working – please try a desktop computer.
STILL Still not working? If you've tried all of the above and it's still not working. Send me an EMAIL with your contact details, full name, phone, email, address, and how many people you would like to book in, and the dates you would like to book, and I can book it for you. Please don't text, DM, instagram or facebook message, I lose those messages quickly and I'll forget to book you in.
IMPORTANT: Rescheduling or Cancellations
STudio rules
PLEASE DON'T COME TOO EARLY.No more than 5 mins before a session starts please.
PLEASE DRIVE ALL THE WAY AROUND THE ROUND ABOUT & PARK ON THE ROUNDABOUT or in the backyard.
Apron, Towel & Tools are provided for BEGINNER Classes ONLY. If you would like to continue coming to pottery after the beginner class, please read the Studio Rules on the Wheel Time & Studio Time Pages as you need to bring your own supplies including an Apron & Towel.
BRING A BOX to following sessions to take any completed pieces home with you.
LAST BUT NOT LEAST! If you would like to discuss anything with me or have a suggestion of what you would like to see happen here, or any ideas, or if you're not happy about something – Please let me know, I want to hear your feedback!
Thanks so much for your support and co-operation for for making our small potting community so wonderful!
Everyone is creating such great work & I can't wait to see what you make next!
PLEASE NOTE: THIS CALENDAR SHOWS ONLY HAND BUILDING (PINK) CLASSES – CLICK HERE TO VIEW OUR FULL CALENDAR
Blue = Beginners Learn to Throw on the Pottery Wheel Classes (Click here for more info)
Pink = Beginners Hand Building Pottery Classes (Click here for more info)
Green = Wheel Time (Click here for more info)
Teal = Wheel Time Deck Wheels (Click here for more info)
Orange = Studio Time (Click here for more info)