How exciting – children's Pottery Classes ARE FINALLY HERE!
Price
$180+GST per 6 class block. Classes will run within school terms, and cannot be purchased individually. Missed classes cannot be made up or taken at a later date, so if your child is unable to make a class for any reason you will forfeit that class. Bookings are non-refundable after start date.
Price includes the cost of all equipment, clay, glazes and firings. An apron & towels are provided.
age
Kids pottery classes are best suited to children aged between 7-9, although anyone aged 7-12 years old are welcome. Please contact me first if you would like to discuss your child.
When
At this stage we are taking EXPRESSIONS OF INTEREST please let me know if your child is interested. We will need a minimum of 4 children, and a maximum of 8 to run kids classes.
Please email me direct to if your child is interested. Please make sure to include:
which day of the week you prefer
what time
how many children you have
ages of children
when you would like to start
where
Home based studio (garage)
39b Clifton Road, Clifton Beach QLD 4879 – House in Middle
location & parking
39b Clifton Road, Clifton Beach.
Workshops are run out of my home garage. When you arrive you'll notice it is a shared driveway with three houses using the same driveway. I am the house in the middle. You are welcome to drive all the way down the driveway (Please don't park along the actual driveway or block access for our neighbours to get out).
If you drive down the driveway, PLEASE DRIVE ALL THE WAY AROUND THE TURNING CIRCLE & PARK ON OUR DRIVEWAY IN FRONT OF OUR HOUSE. Please don't drive straight in and stop midway, other cars can't fit behind you if you stop short and then their car blocks the entry. If there is space in front of the garage you can park there, but if two cars are there already, don't stop behind them, please continue around the turning circle and park on the driveway in front of our house. If you need to leave early, please park out on the street and walk down so we don't have to shuffle cars around.
Currently we can't park on the grassy area in back yard like map shows, we are in the process of getting a new gate so once we get it you will be able to park out the back on the grass area. In the meantime please be thoughtful of others when you park.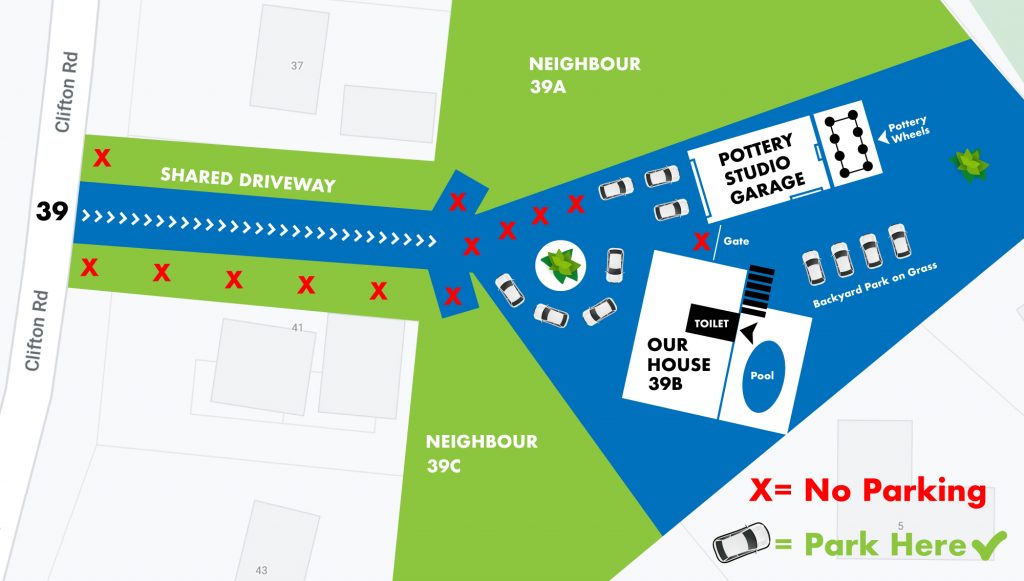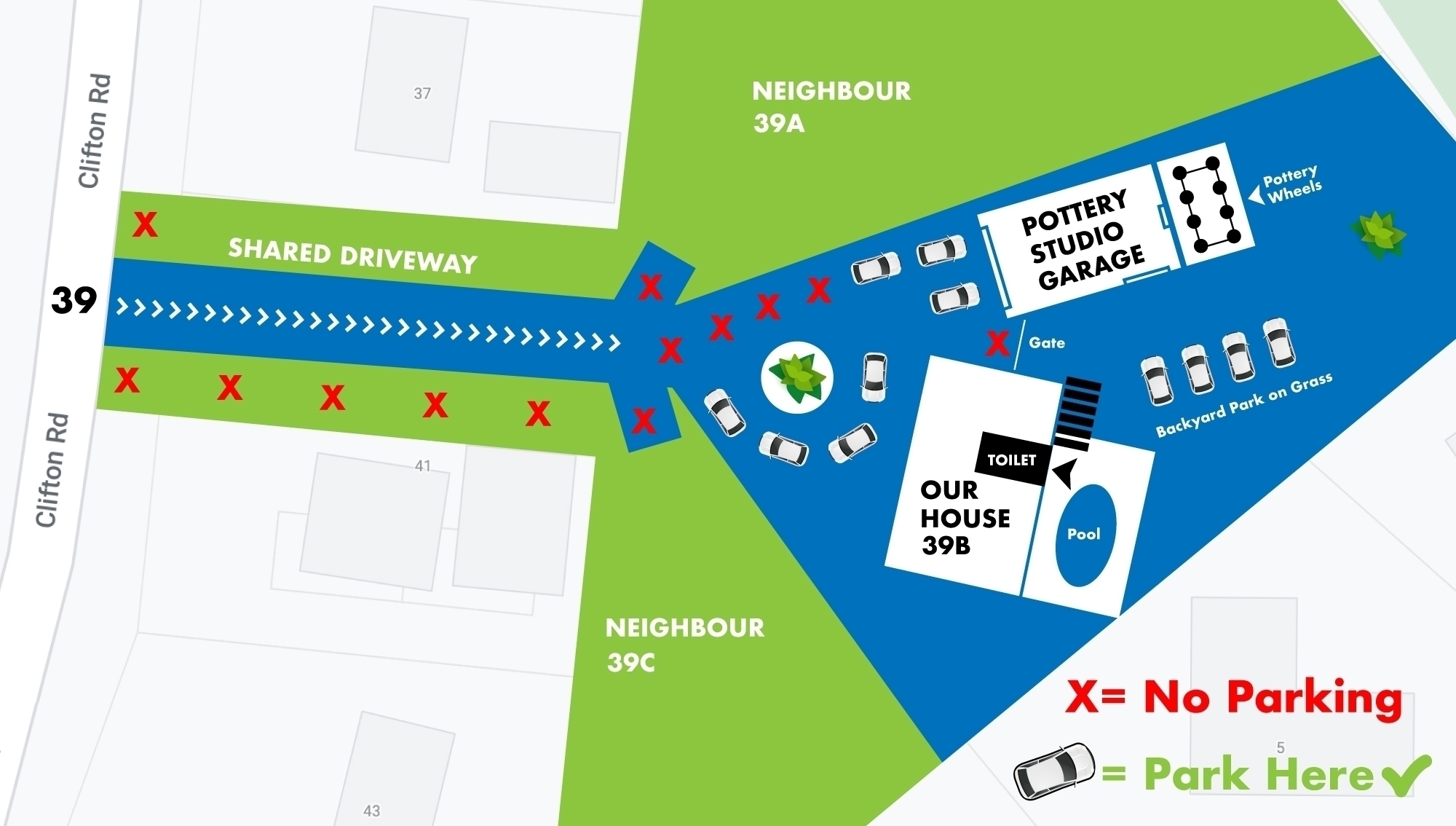 class schedule
Class ONE – hand building
Let's Make a MUG!
In our very first class we will be hand building with clay! We will use the slab roller to roll out a big slab of clay, then with our textured rolling pins we will create beautiful patterns. We will then cut out the clay and join it together to create our very own mug. It will be very delicate, so Kylie will need to put your mug into the kiln to cook it and make it strong so it is ready for glazing in your next class.
---
Class TWo – glazing
Let's Glaze our Mug PLUS Pick one piece from the shelf to Glaze too!
We will glaze the mug that you made last week PLUS also pick any one of the bisqued pieces on the shelf (like the dragon or dolphin pictured below – there are a couple of different pieces to choose from) and you can glaze one of these too!
So, what is Glazing? Glazing is when we paint our pots in special paints, and when they're ready Kylie will put them into the kiln to be cooked. When the pots go into the kiln it gets very very hot and this makes the paint turn into Glass! So, glazing is turning paint into glass and this will make your mug nice and shiny! Your mug will be ready when you come back next week and then you can use it to drink out of.
---
Class THREE – Easter rabbit & UNICORN bowls
Are you EGG-cited to make the cutest rabbit or unicorn bowl to hold your Easter Eggs!
---
Class FIVE – gnomes & animals
Super fun & super cute! What animals would you like to make?
---
Class SIX – pottery wheel
Finally – It's Wheel Time!
By now you will be an expert at working with clay. FIRST You might need to finish painting your animals that you made from last week if you didn't finish them, and then you can take a turn on the pottery wheel! It is very tricky and you will need to use a lot of your muscles to hold your foot on the peddle and hold the clay on the wheel at the same time. It is a lot of fun but it is also very messy too so we will need to clean all our mess when we are finished. If the pottery wheel is a bit too tricky, we will make something else.
This is your last class so we wont fire any of the pots that you make on the wheel, this will just be a fun play session. You can take your gnomes and animals that you made last week home with you.
what to bring
Please wear covered in shoes and clothes that you don't mind getting dirty. An apron & towel is provided but you may still get messy.
Some people like to bring their own water bottle, but there is bottled water in fridge & a small snack (muesli bars or biscuits etc) provided. Please let me know if your child has any food allergies, or if you would prefer they didn't eat any snacks.
parents
Parents are welcome, but you don't need to stay during the class, feel free to drop and run. If you prefer to stay I'll ask you to please keep out of the way, and sit in the outside wheel area. There's not enough room to all sit together.
On your child's first class I may ask you to fill out a form with parent and children details (allergies or conditions or anything you would like me to be aware of), and please check I have your contact number.
allergies or medical conditions
Please make me aware of any allergies, medical conditions, social anxiety, or anything you think I need to be aware of.
Please note this is a messy hobby, and your child's hands will be covered in clay, water and glazes most of the session. Although we keep our studio clean and hose in-between sessions, it can be dusty in the studio and it is not recommended if your child has eczema or a skin condition, or asthma or allergies.
We also have a small dog, a cat and chickens which roam freely.
strictly no photographs
Strictly No photographs are to be taken of children during class times or uploaded to social media.
how to book
Please NOTE: Samsung devices the calendar functions don't work properly & some buttons don't appear. If it's not working for you, you may need to book on a desktop computer or try a different device.
FIRST: You need to Login or Create an Account & then Login (under the calendar below).
SECOND: Click onto a PURPLE KIDS CLASS on the calendar below. The date you have selected will appear below the calendar. The small number on the calendar indicates how many spaces are left available. If the box is a lighter shade & it has a zero '0' it means the class is fully booked and you won't be able to click on it.
THIRD: After you have selected the PURPLE Kids Classes – Select the quantity – ie. how many children you are booking for, then click 'Book Now'.
FOURTH: A message will appear to say you have added it to your cart, then click 'View Cart' . On the cart page, check your booking, scroll to bottom then click 'Proceed to Checkout'. Full payment is required in advance to secure a spot.
NOT WORKING?
It won't let me click on the time or add a session to my cart? – The class is probably full already. Full classes wont let you add to cart. Check the tiny number to see how many spaces are available. Zero '0' means the class is full.
I can't see my Cart? – If you've added session and clicked 'Book Now' but you can't see your Cart, click up the top main menu > My Account > My Cart.
My booking's not in my cart? If you've clicked Book Now but your booking is not in your cart you may need to refresh your browser or clear your cache, or go back to the top main menu > My Account > My Cart. OR the class might be full already! It won't let you add to cart if the session is full already.
Still not working? *As mentioned above – Samsung devices don't work. But if you're not on a Samsung and it's still not working – please try a different device or a desktop computer.
STILL Still not working? If you've tried all of the above and it's still not working. Send me an EMAIL with your contact details, full name, phone, email, address, and how many people you would like to book in, and the dates you would like to book, and I can book it for you. Please don't text, DM, instagram or facebook message, I lose those messages quickly and I'll forget to book you in.
working with children
Kylie has an approved working with children clearance (also known as a blue card).
Blue card number: 2015361 / 1
Name on card: Kylie Mae Cooper
Expiry date: 01 February 2024
Card type: P ('P' means paid and 'V' means volunteer)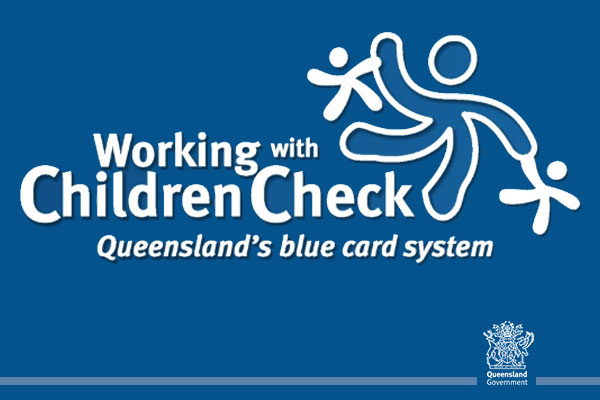 Light Blue = Beginners Learn to Throw Classes – Start with these classes (Click here for more info)
Dark Blue = Returning Beginners 6 WEEK COURSE (Click here for more info)
Green = Wheel Time (Click here for more info)
Orange = Studio Time (Click here for more info)
** NEXT KIDS CLASSES 6 WEEK BLOCK is PENDING **
Please email me with your expression of interest, if your child is interested in attending classes. I will notify you when we have a scheduled time for classes.